Bytron News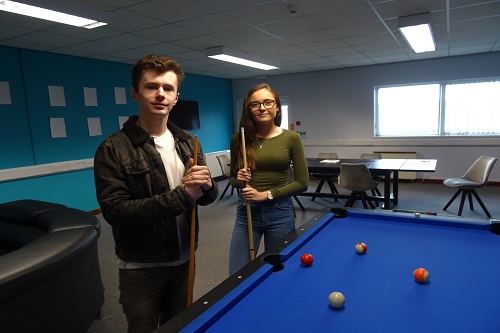 Meet the team... here's our Apprentices
By Beckie | 7th February 2020
To mark National Apprenticeship Week, we caught up with Charlotte and Will to find out more about their journey as an apprentice.
Charlotte, 19, started her Business Administration apprenticeship with us back in 2018 after finishing college as she believed it was the best way to get into a job whilst continuing to learn.
After completing A-levels in Business, Law and Photography, Charlotte decided that Business Admin was the role for her when she received a phone call from the Humber Business Training Centre inviting her to interview for the role at Bytron.
Charlotte's role within the company is varied as she works across the admin, HR and accounting functions. A typical day includes filtering calls and emails for the various departments, completing admin tasks for management, arranging travel for sales and account managers, invoicing, and assisting HR with tasks such as managing holiday requests.
She said: "There's always something different to do, no two days are ever the same. I really enjoy learning the different parts of accounts but the best part of my job is the people I work with, everyone is very nice.
"By doing an apprenticeship I'm able to combine learning with working, I'm gaining both experience and an education whilst earning a wage."
With her apprenticeship due to finish in 2021, Charlotte would like to stay with the company in her current role.
Will, 23, our IT Support apprentice started with the company in July 2019 after seeing the position advertised online. With no previous work experience in IT, Will wanted a route into employment and an apprenticeship was a good way of getting a foot in the door and onto the career ladder.
A typical day for Will starts with checking if any support tickets have been raised overnight. The rest of the day is spent providing skybook support to clients as well as looking after the internal IT infrastructure of Bytron.
Will commented: "The part of my job that I enjoy most is problem solving, I also really enjoy working with the rest of the Support team.
"Even though I'm an apprentice, I get treated as an equal which is great because I'm being given the same tasks as the rest of the team."
Will is due to finish his apprenticeship in January 2021 and like Charlotte, he would like to stay with the company.
Therisa Thompson, HR Manager, Keyzo and Bytron, commented: "We're a growing tech company and have lots of exciting opportunities for people looking to expand their knowledge and skills.
"In 2018 we took the decision to 'grow our own talent' and employed our first apprentice within our admin department. Charlotte has been fantastic since joining the company, completing level two in Business Administration as well as gaining real, on the job experience. Now working her way through level three and with eighteen months of experience under her belt she's become an integral member of the team.
"Last year we took on a second apprentice, Will. He's working towards a level three qualification as well as gaining valuable experience as an IT Support Technician.
She concluded: "They're both extremely determined and we're very proud of their achievements."
Apprenticeships.gov.uk are the governing body fpr apprenticeships and provide more information for apprentices, employers and parents.
Humber Business Training Centre provide apprenticeships and office-based training within a range of private sector organisations. For more information visit their website.
View the career opportunities with Bytron.
-