Electronic Flight Bag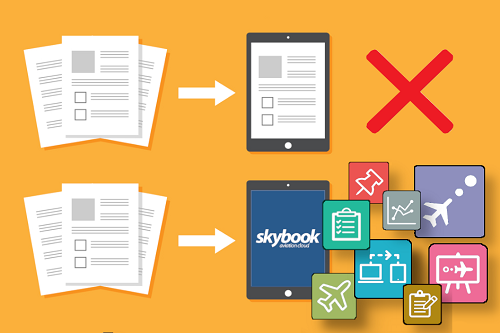 Have you really gone paperless?
By James | 8th October 2019
We speak to a lot of operators across the globe who have made the leap by investing in Electronic Flight Bag technology.
This isn't unusual or surprising as it's the most effective first step towards a paperless cockpit - one of the most used aviation phrases of the past five years.
Undoubtedly two of the biggest benefits of investing in EFB technology is the ability to deliver fully digital briefing packs to aircrews, along with app-based journey logging and data capture, removing the need for vital data to be written down. So why are we still seeing so many examples of operators using 'paper on glass' solutions?
Recent pilot blogs and articles highlight growing frustrations when it comes to flight deck workloads and NOTAM overload so surely it's vital to select a solution that directly addresses these challenges as a bare minimum - otherwise you're simply moving the problems onto a new platform.
Why invest in the hardware to go fully paperless but then accept a solution that delivers little more than a paper on glass PDF briefing package or a series of individual applications that see your aircrews constantly switching between apps to access the information required for each flight?
With over 35 years in aviation and a strong understanding of the challenges faced by modern airlines and operators, our solutions put the needs of the professionals first...
Our EFB was first to market way back in the noughties and we've never stopped listening to our customers and the industry when it comes to evolving it further.
The latest version isn't packed with gimmicks or functions that simply aren't required; it features a range of options that have all been engineered with the needs of the flight deck firmly in mind.
Not only are we taking our intuitive skybook app interface even further in order to streamline workflows and connect with other solutions, we're also harnessing the power of the devices that aircrews are using on the flight deck to enable seamless app sharing, image capture and screen grabs, scribble pad for note taking and not forgetting device sync, which will follow later this year.
The skybook Electronic Flight Bag application is already proven by operators across the globe and has also taken multiple award wins but there's always room for improvement and there's always an opportunity to harness technology in a bid to further improve workloads, processes, data capture and information sharing.
If you have invested in an EFB platform for your flight deck, it really is time we helped you make the most of your investment by harnessing the full power of the skybook EFB application.
For more on our EFB app or to start your skybook journey visit our EFB page or email us info@bytron.aero
-