Bytron News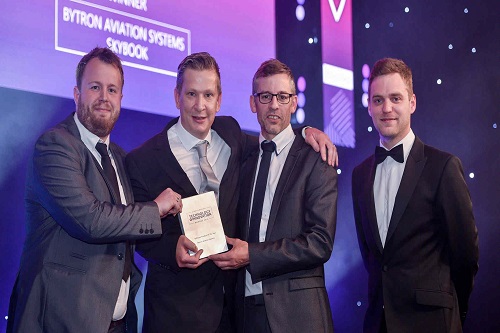 skybook takes first in Lincolnshire Technology Awards
By James | 11th June 2018
On Thursday 7th June 2018, once again we found ourselves attending an awards ceremony, nervously awaiting the outcome of the two categories skybook had been shortlisted for...
The event in question, the 2018 Lincolnshire Innovation Technology Awards, saw skybook listed as a finalist in both the Digital Innovation of the Year and Software Product of the Year categories, facing some very stiff competition from companies representing a wide range of business sectors.
On this occasion, we proudly took home first place in the Software Product of the Year category and we were also 'highly commended' in the Digital Innovation Award category.
Shane Spencer, MD of Bytron Aviation Systems said: "I'm hugely proud to have won the Software Product of the Year award at the Lincolnshire Innovation Technology Awards as it again shows that our skybook solution has been recognised as a class leading system, helping airlines to deliver process improvements, operational savings and the potential to reduce carbon footprints.
"Most importantly though, it recognises the hard work and dedication displayed on a daily basis by the team back at Bytron HQ, who are all constantly striving to push skybook to the next level, keeping our range of aviation solutions ahead of the competition."
2018 is an exciting year for skybook as we prepare to launch a number of new modules, additional functionality and a revised interface to deliver an improved user experience.
If you would like to find out more about skybook or to experience our range of modules for yourself, simply email james.cartwright@bytron.aero
For more information about how skybook could help you click here...
-