Bytron News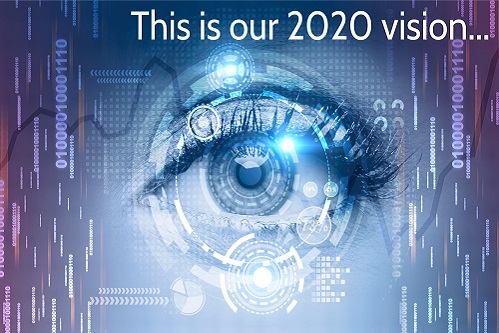 This is our 2020 vision
By Shane Spencer | 20th January 2020
In what was our busiest year to date, 2019 was full of milestone achievements for Bytron and our team.
It kicked off with us welcoming new client Aeromexico onboard, and a stream of new business continued throughout the year. The volume of clients onboarding with us meant we had to look at expanding the existing team in order to keep up with demand, so in 2019 our team grew from 26 to 38 and included our first international employees in Canada.
We quickly found that the current Head Office space wasn't big enough to support the growing team, therefore, Spring found us on the hunt for a second office space and in Autumn we officially opened our second UK office in the city of Hull, in the East Riding of Yorkshire.
As the team grew so too did our commitment to them. We believe our team are the biggest assets of the business and we are commited to ensuring they receive the most up to date industry training in order to grow and develop within their role. Last year not only did the company invest over £20,000 in staff training, we also worked hard to improve staff benefits, including an increase in holiday entitlement, and we also invested in improving the office environment.
Towards the end of the year, myself and the Senior Management Team were proud to announce that our IT Support team had hit our client Service Level Agreement (SLA) targets every month which was a fantastic achievment and one we strive to continue to deliver.
As a Living Wage employer, we we're the proud recipients of a Living Wage Champions Award. Back in June, we attended the Living Wage Foundation awards ceremony and were thrilled to be recognised for our commitment to paying the voluntary living wage. Last year also saw our HR Manager join the Living Wage Tech Industry Board as she took the reins as Chairperson.
Our team also got involved in charity fundraising. Myself and two collegues took on a skydive to raise over £1,500 for local charity, Lindsey Lodge Hospice. If that wasn't enough adrenalin for one year, I also joined several colleagues to participate in the Sheffield 10K race and raised over £700 for Diabetes UK.
On a personal level, I was thrilled to be accepted as a member of The Supper Club based in London. It is such an exciting opportunity to network with major companies such as Bet Fair, Capita and Carphone Warehouse and bring some of their business ideas to Bytron. Being a member of the London group has led to me getting involved in founding the Leeds Forum Group.
So, with a successful 2019 behind us, we're looking ahead to 2020 with some significant growth plans in the pipeline.
We've listened to our customers requirements and developed our 2020 skybook road map; therefore, we will be allocating resources to deliver it by expanding our Development and QA teams in order to keep up with customer demand for our products.
To give clients peace of mind that we are meeting regulatory requirements to apply systems effectively to be of real benefit to customers, we plan to achieve ISO 9001 and ISO 27001 Accreditation Quality Management System standards.
The growth plan can't be successfully delivered without our team which is why we will continue to invest in our employees. This year we will be focusing on mental health awareness within our workforce. Early January saw two staff members complete a two-day awareness course which will put us in a stronger position to support our team by ensuring they are happy and healthy at work.
We are in the process of making significant updates to our existing website with the aim of improving the online customer experience. Watch this space for news on the launch...
Finally, I'd like to take the opportunity to wish you all a happy, prosperous and safe 2020.
Shane
MD Bytron
Find out more about skybook here or for more information on any of our products please email James Cartwright
-