skybook
What is skybook aviation cloud?
By Shane Spencer | 22nd December 2013
Although we're far from new to aviation, we've been working pretty quietly up until now as we added the finishing touches to skybook aviation cloud. So we figured it might help if we explained a few things…
skybook has been around for over a decade, developed and maintained by Bytron, backed by over 30 years' of aviation software innovation. Over the years we've served many airlines, handling agents, airports and state authorities, creating some of the most cutting-edge and reliable technologies to be used at the forefront of the aviation industry. But this isn't a history lesson, if you would like to learn more about who we are, where we've been and the projects we've worked on, then please read our story.
Let's get down to business…what is skybook aviation cloud?
Although we've been around for a while, we've never lost our passion for aviation. We're constantly on the lookout for opportunities and this drive and desire lead us to re-engineer our software recently to cater for the needs of modern airlines, airports and ground handling organisations.
skybook as you see it today is the result of a need throughout aviation for better communication, efficiency and improved accessibility. As it stands many organisations are still plodding on with the same planning processes they've had in place for years; procedures they've become accustomed to, without considering how things could be improved. With skybook comes the opportunity to enhance your day to day operations from the ground up, freeing up time and reducing costs, facilitating the flow of data in your organisation for a more integrated, digital operation.
How do we do this?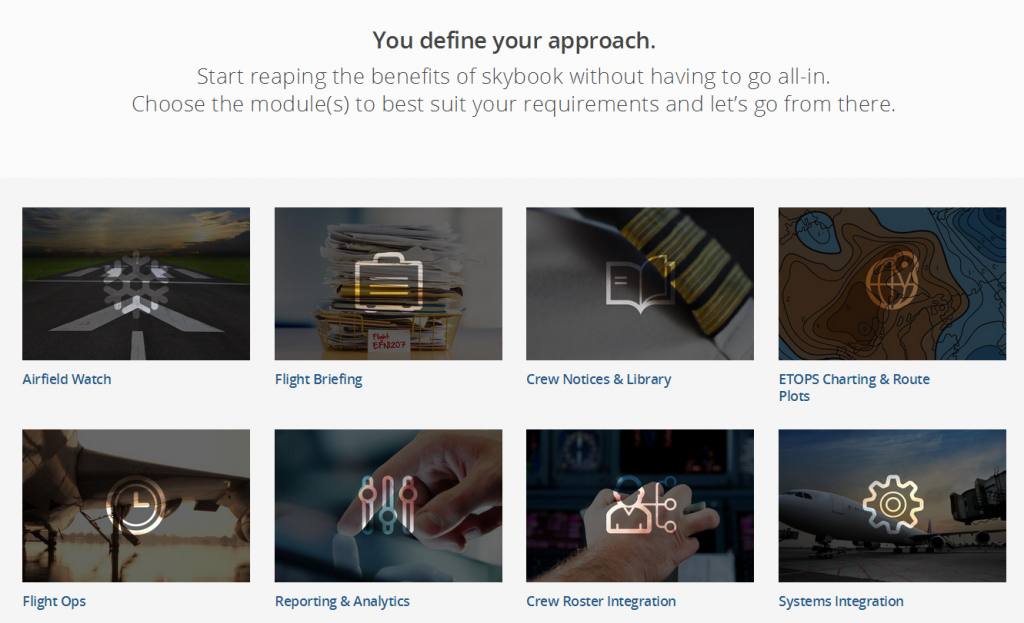 With a modular approach, skybook makes it easy for you to start your digital journey on your own terms; incorporating modules as and when you need them to guide your day to day flight operations.
We understand that the prospect of digitising your operation can be a daunting one, which is why we want you to define your own approach to using skybook, handpicking from our modules to suit your requirements, adding additional functionality as and when you need it. There's no one solution, we want you to get started using skybook in your own way, and we'll provide the tools and support to help you on your digital journey. So let's break it down, shall we? How does skybook help you to get the most out of your flight operations?
Streamline your Flight Briefing process
skybook automatically generates flight briefing material that's always up to date and filtered to your requirements. All you have to do to get started is upload your OFP (Optimised Flight Plan).
Keep on top of your flying environment
Ever tried manually monitoring the WX and NOTAM situation at all of the airfields that are significant to your flights? It can be very time-consuming. skybook automates this process, keeping an eye on airfields of interest so you don't have to; automatically alerting you to any changes that could impact on your flights.
Reduce your reliance on paper
The world is becoming an increasingly more digital place, because digital means easy access, easy distribution and less required storage space. skybook enables you to digitise your paper document library and send targeted Notices to specific members of your Flight Crew, all they have to do is log-in, no paper-chasing required.
Charting, scheduling, integration and much more
Like we said, skybook is designed with your needs in mind; offering a range of modules to cover key aspects of your flight operations, from the above to generating ETOPS charts and Route Plots automatically, staying on top of your flight sectors, making strategic decisions with insightful reporting and analytics, and building a more interactive operation.
To find out more please head to our modules page, and if you would be interested to take things further, please do not hesitate to get in touch. We'd love to hear from you.
-