skybook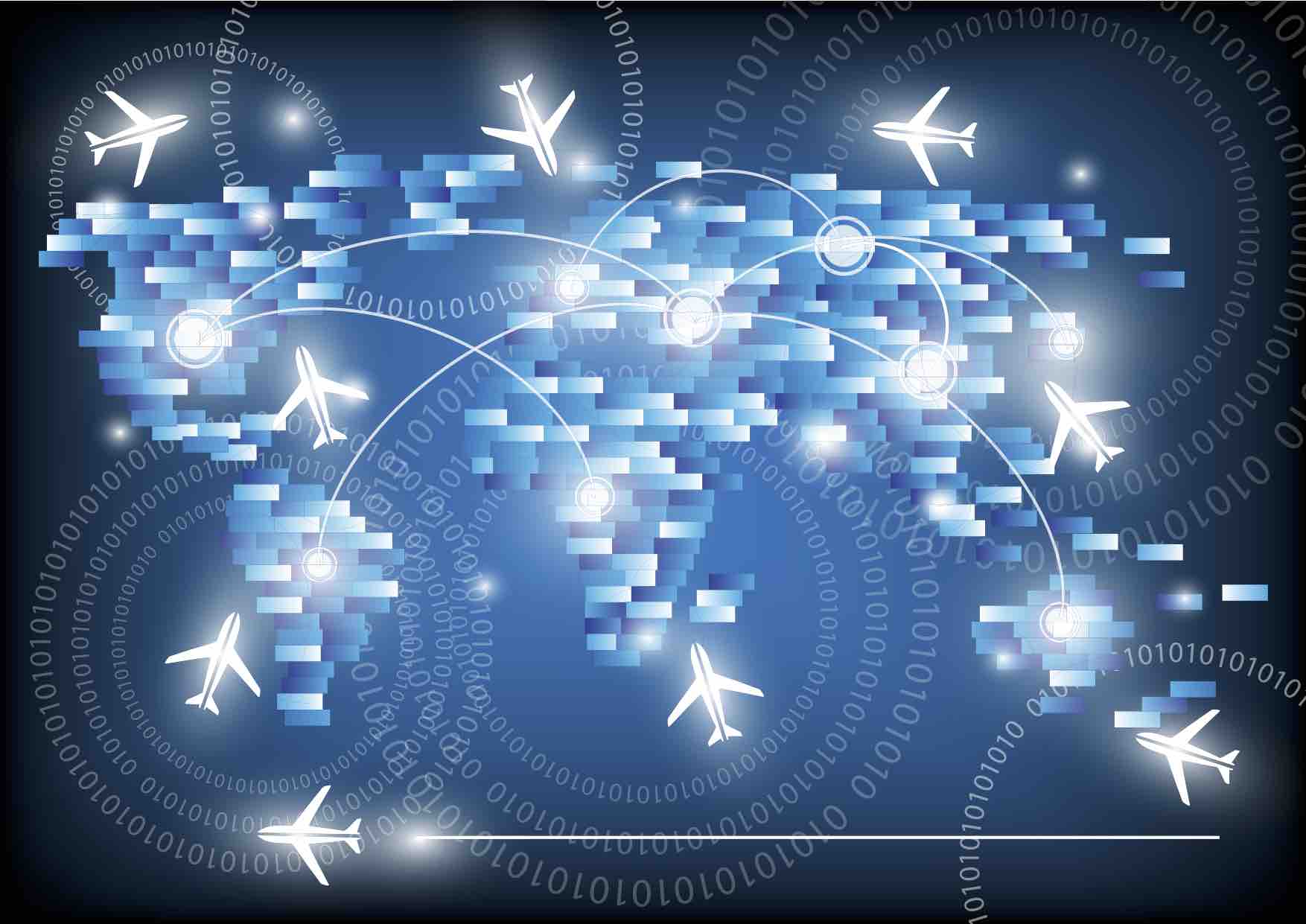 Latest skybook Ground Portal updates are now live
By James | 15th January 2021
Our latest skybook release went live in December delivering a range of updates and enhancements to modules within the Ground Portal.
Our focus was on Dispatch, the ETOPS Release Form and RAIM provision as our development team worked to deliver a series of changes that once again further enhance the way in which skybook manages vital information for each flight.
As ever, requests from our customers helped to determine the core priorities which means that each item we have released will again make a big difference to skybook operators by further improving efficiency, reducing workloads and increasing sector-based awareness for dispatch teams and flight operations in real time.
Dispatch Monitor
Enhancements have been made to the secondary navigation menu within the Dispatch Monitor in order to display more detail when it comes to the status of core documentation for each flight.
The Document Status column of the Dispatch navigation menu has been improved in order to display new information for the following actions:
OFP Uploaded
Voyage Downloaded
Sector Accepted
When an OFP is uploaded for the given flight, the relevant information is captured in the Document Status column and displayed under the OFP Uploaded header. The following information is displayed:
Plan number
Uploaded time
Required Block fuel
Upon download of the voyage and subsequent acceptance of the sector, the Voyage Downloaded and Sector Accepted headers will also be populated as follows:
Voyage Downloaded - Plan number, download time, and username.
Sector Accepted - Plan number, accepted time, and username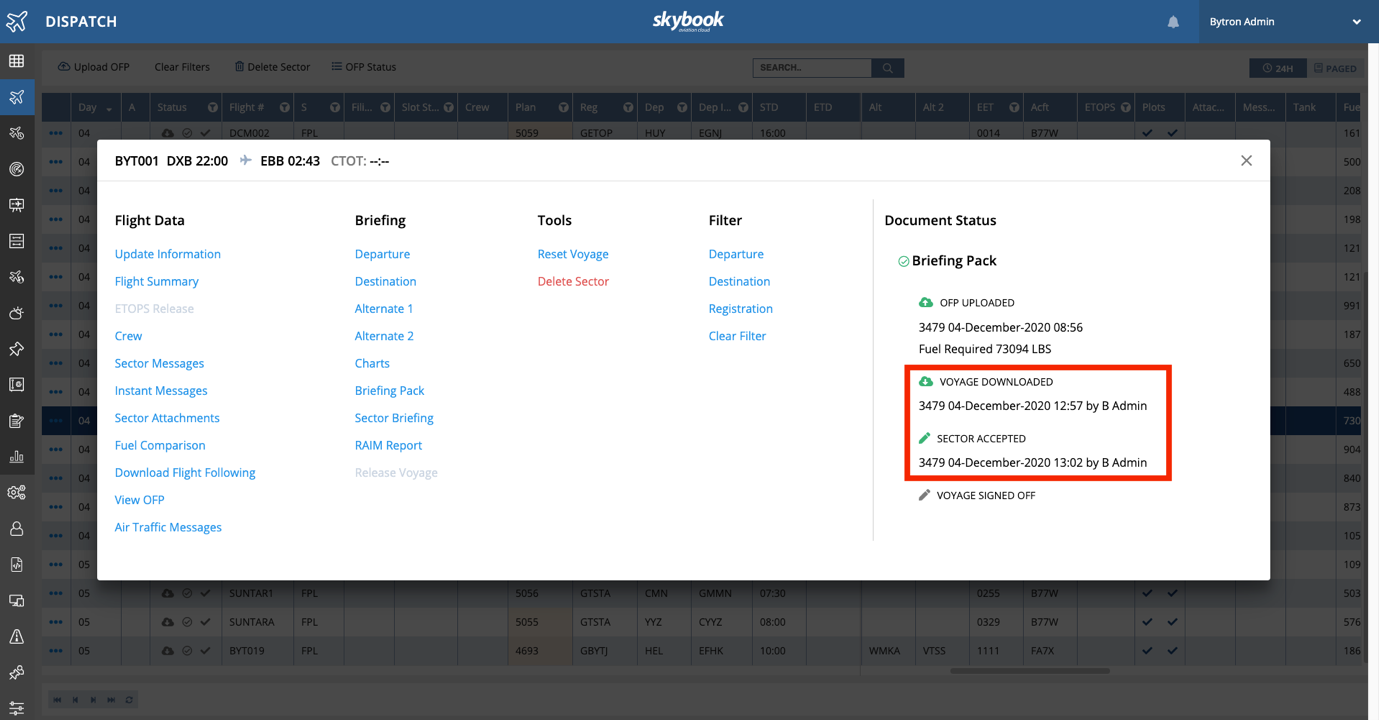 ETOPS Release Form
When it comes to ETOPS provision, skybook leads the way and our latest updates to the ETOPS Release Form have increased the level of configuration available to operators.
Our latest updates include the addition of an auto populated STA field to the summary section of the release form which makes full use of information contained within the OFP.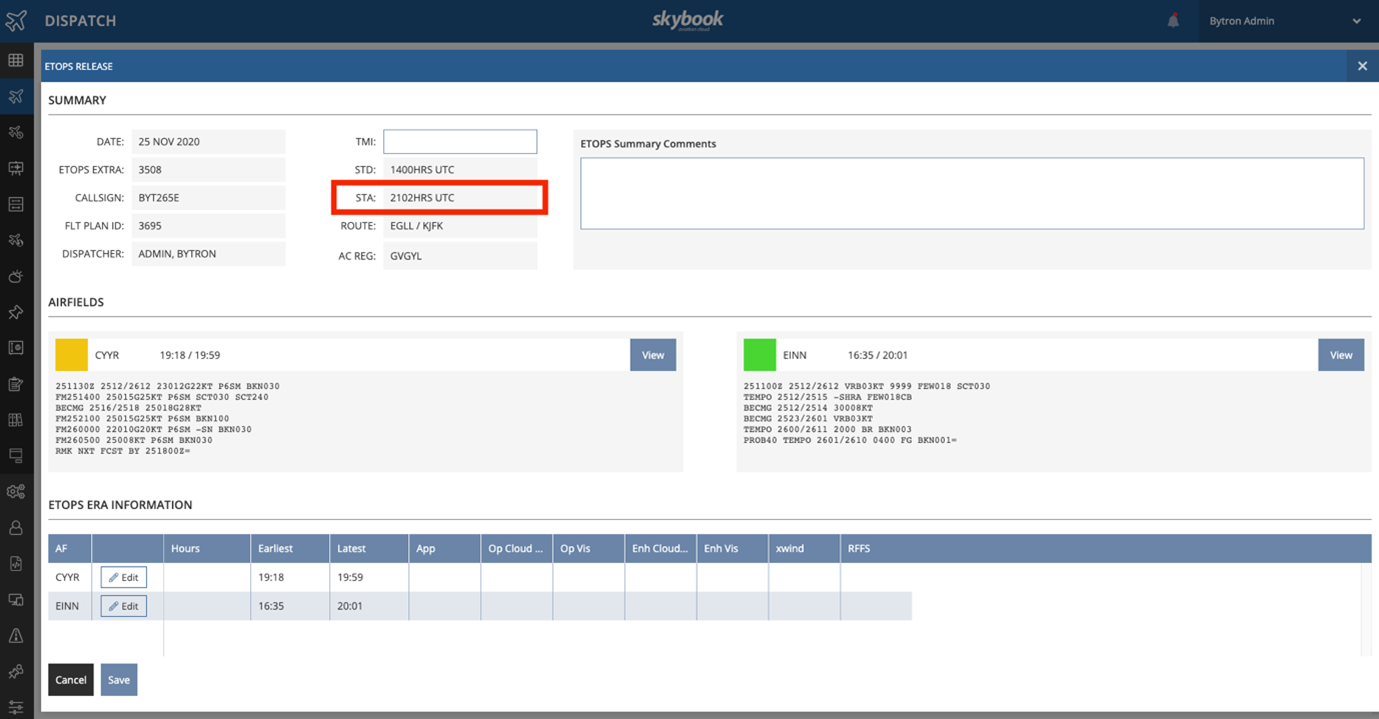 Once populated, the STA is stored and visible as part of both PDF and EFB based skybook crew briefings.
We have also made changes to visibility minima which allows skybook users to easily toggle between statute miles or metres when setting up operational minima.
This is easy to perform and can be selected via a toggle switch in the release form itself.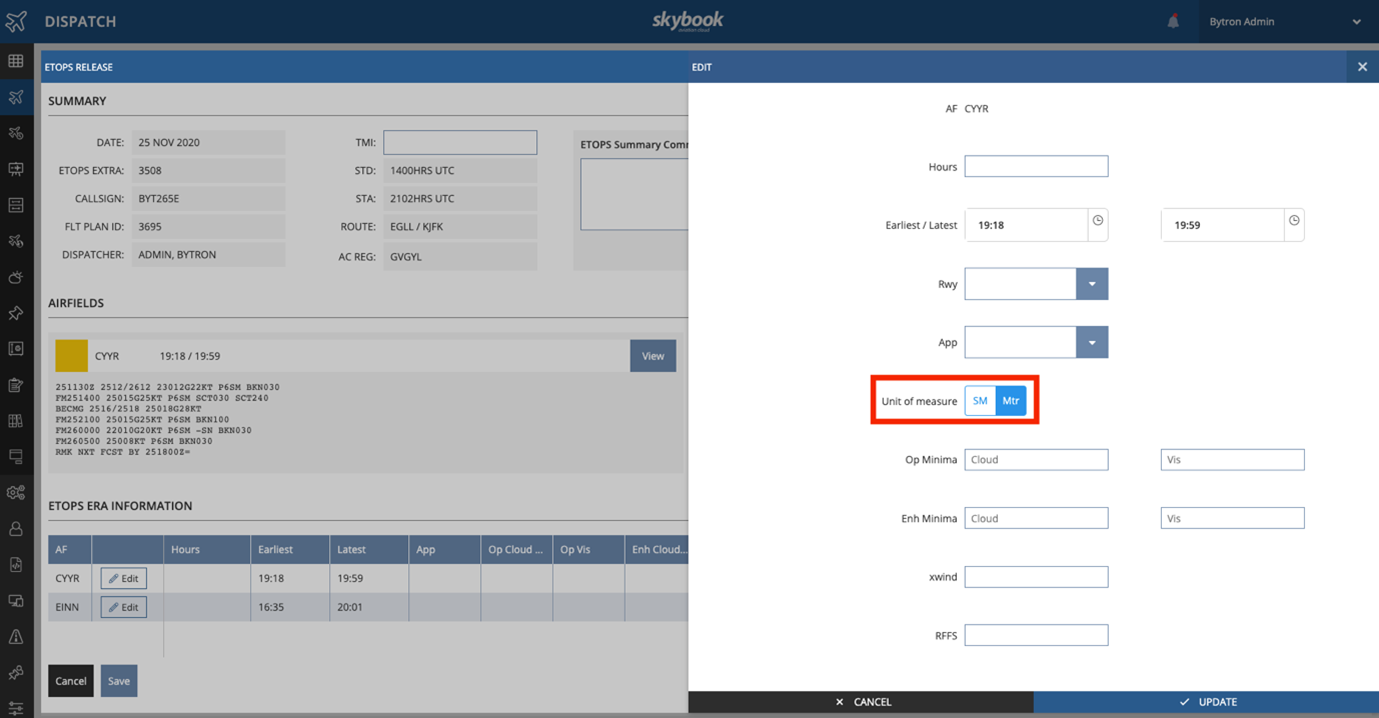 The selected unit is then stored and visible in both PDF and EFB based skybook crew briefings.
Enhancements have been made to ERA earliest and latest times within the form allowing skybook to auto-populate these fields using information contained within the OFP.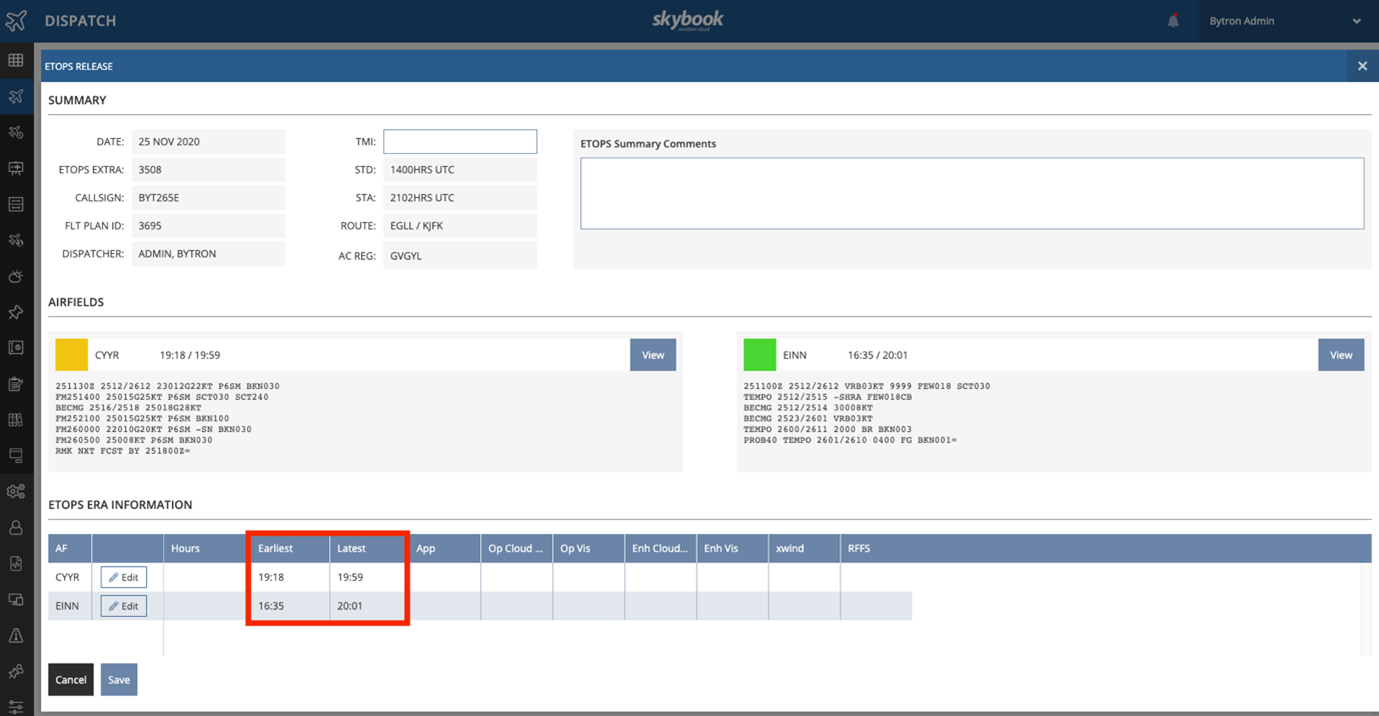 The earliest and latest time will then be visible in both PDF and EFB based skybook crew briefings.
This setting can be easily enabled or disabled as and when required.
Enhancements have been made to the crosswind (xwind) calculator for improved accuracy across a wider range of parameters.
Crosswind is calculated automatically after entering or selecting the runway within the ETOPS ERA edit form.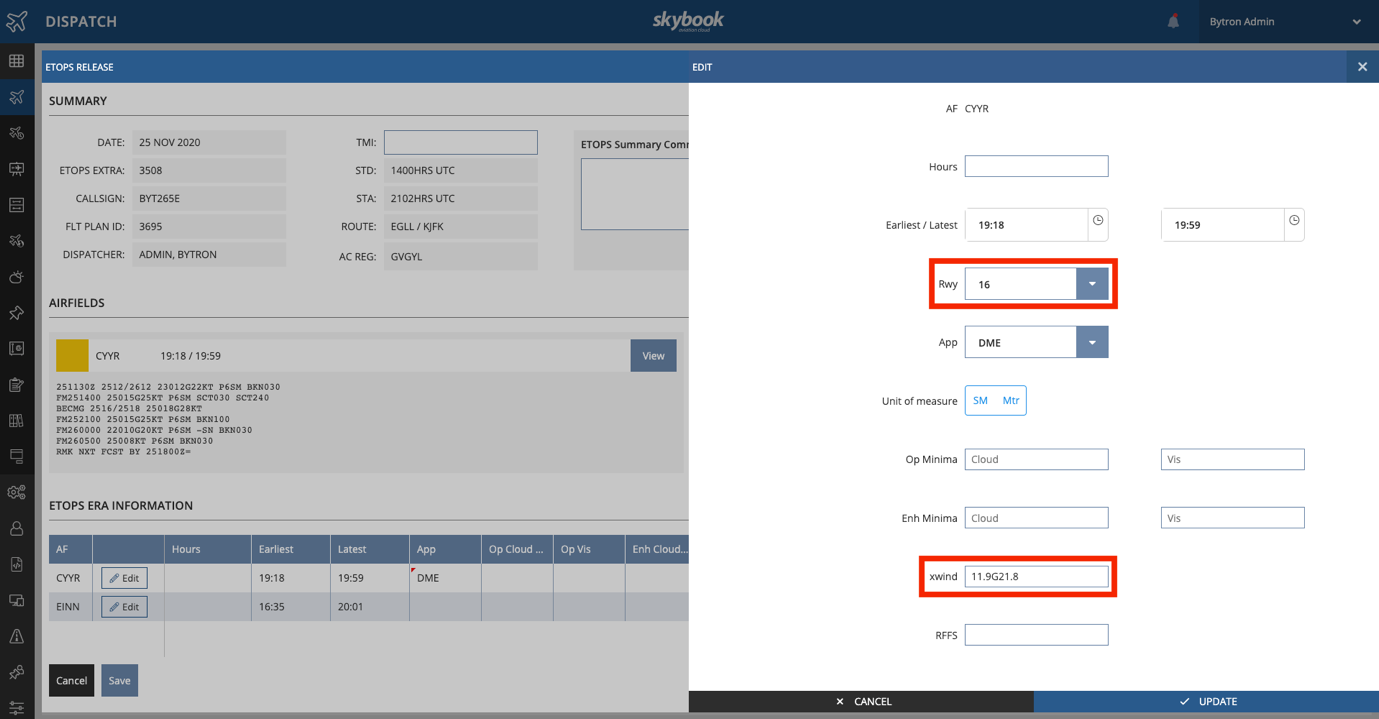 On top of this, skybook can also be configured to only display the two-digit runway code in the drop-down menu, omitting the two-digit magnetic runway code which is also displayed by default.
The airfields section of the ETOPS Release screen can now be hidden if required which helps to streamline the information depicted on the form.
Again, this is an option that can be quickly selected via a simple tick box within the settings area to either hide or show the information accordingly.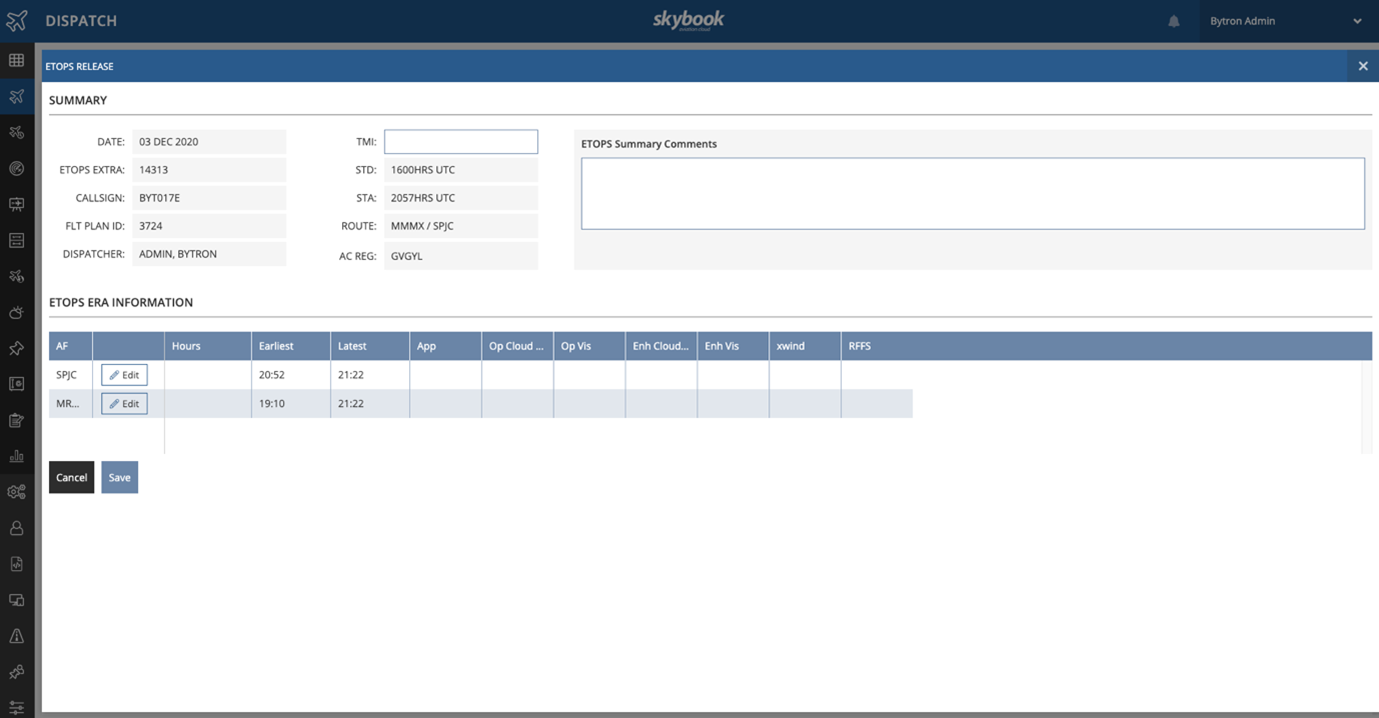 RAIM Settings
skybook operators are now able to assign pre-configured RAIM profiles to airfield types in the settings module of skybook.
The RAIM settings tab has been improved to include a list of option which allow you to set a default RAIM profile to be associated with an airfield type.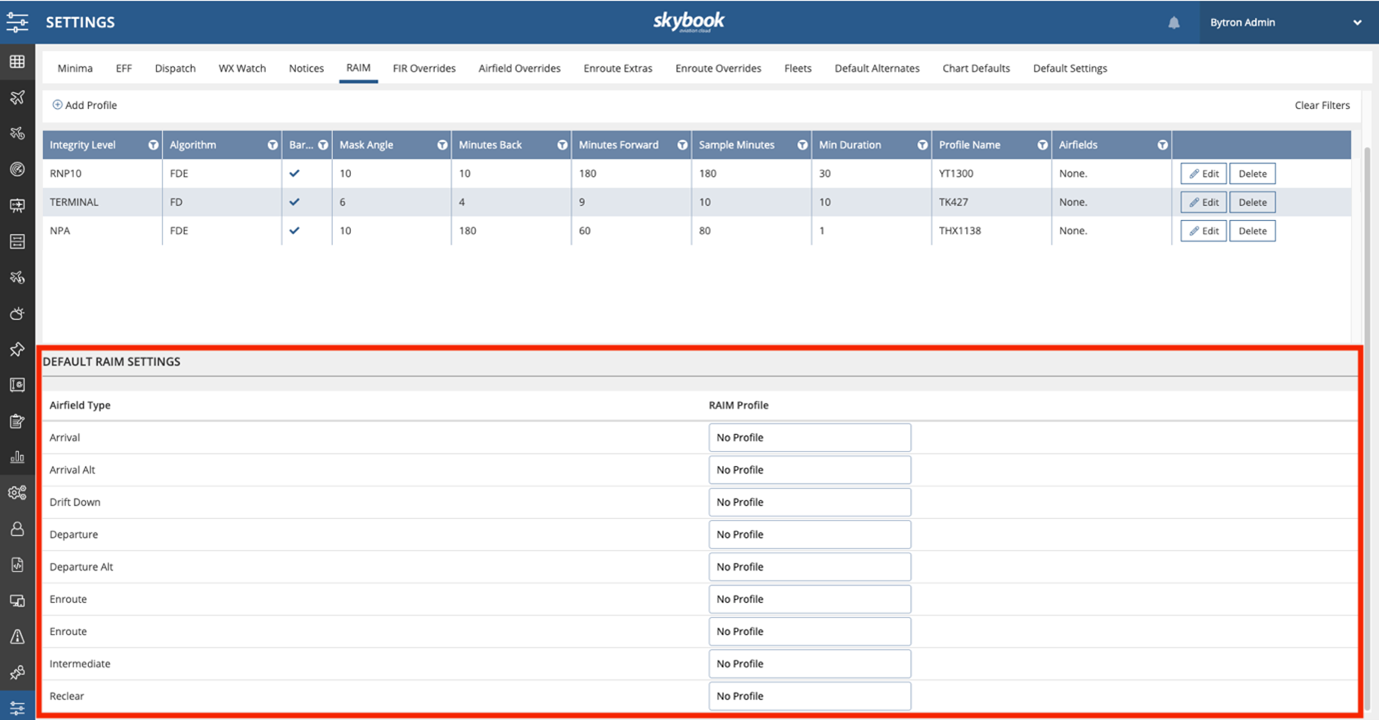 User can then select the RAIM profile that needs to be associated with a given airfield type by clicking in the field under the RAIM profile column as shown in the image below and any airfield types that do not require a RAIM profile can be set to 'No Profile'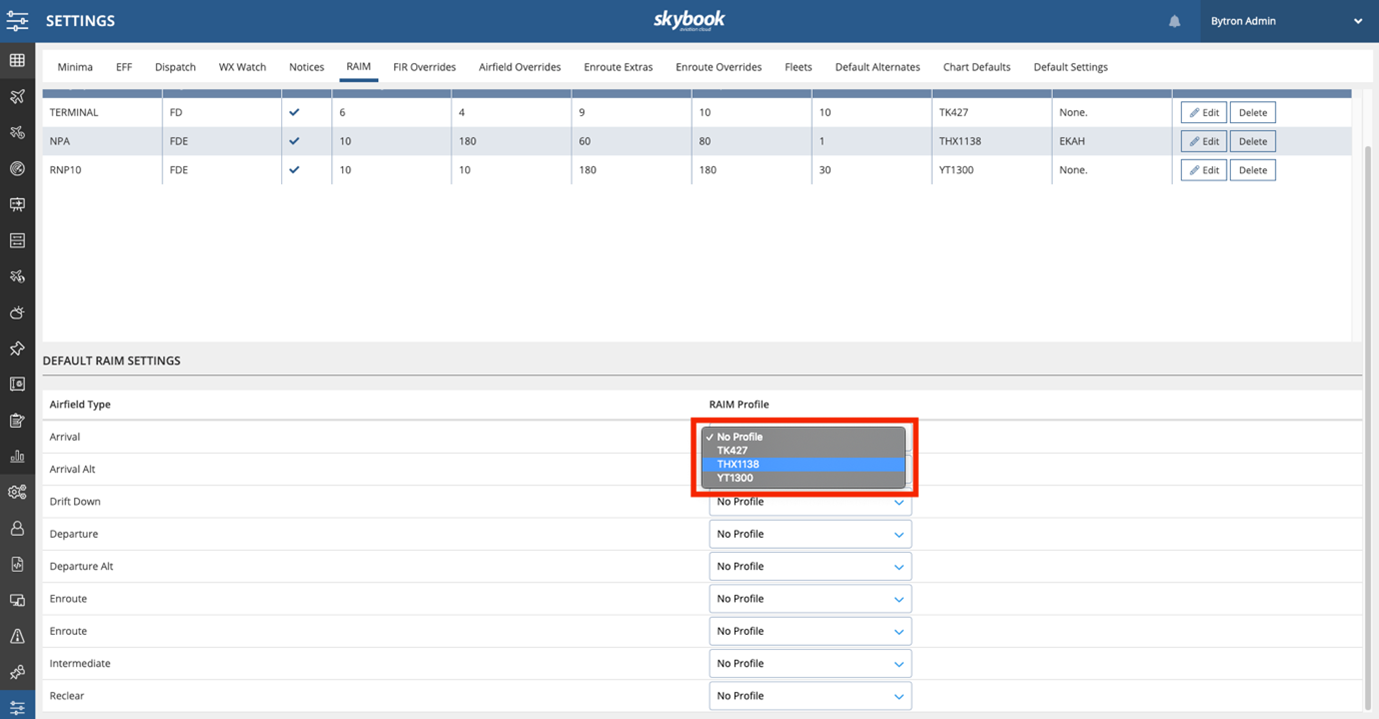 The RAIM reports associated with the chosen airfield types will then be displayed for the airfileds in a given flight in the following places:
RAIM Report selected from the Dispatch navigation menu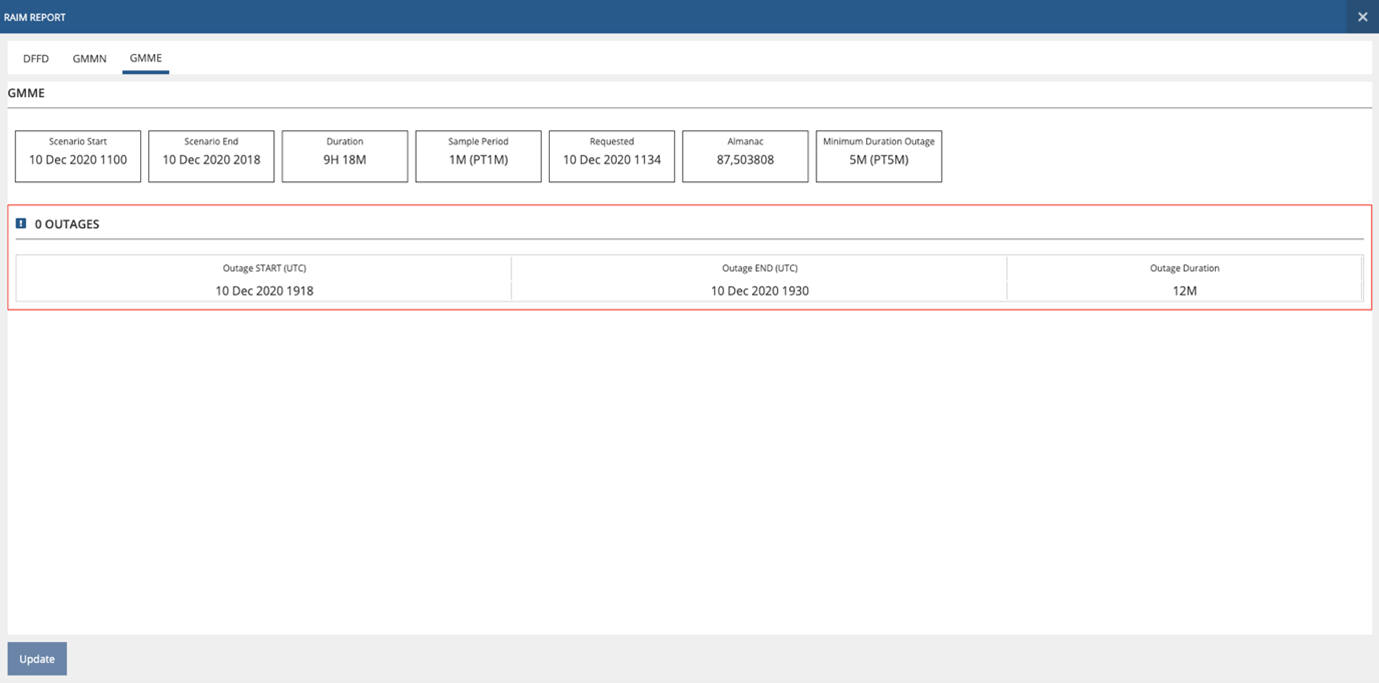 RAIM Outages section of the PDF Crew Briefing Pack for the flight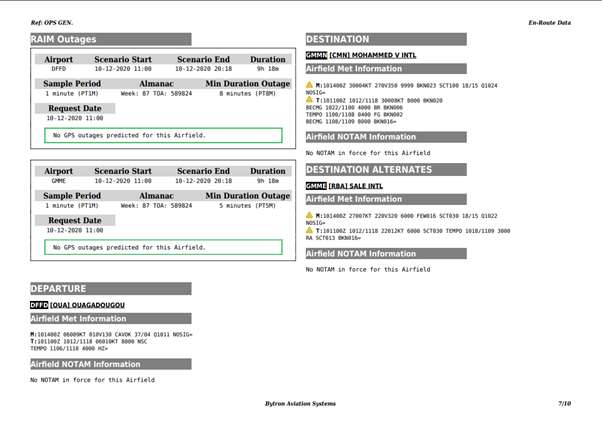 RAIM Report within Airfields section of the skybook EFB Crew Briefing Pack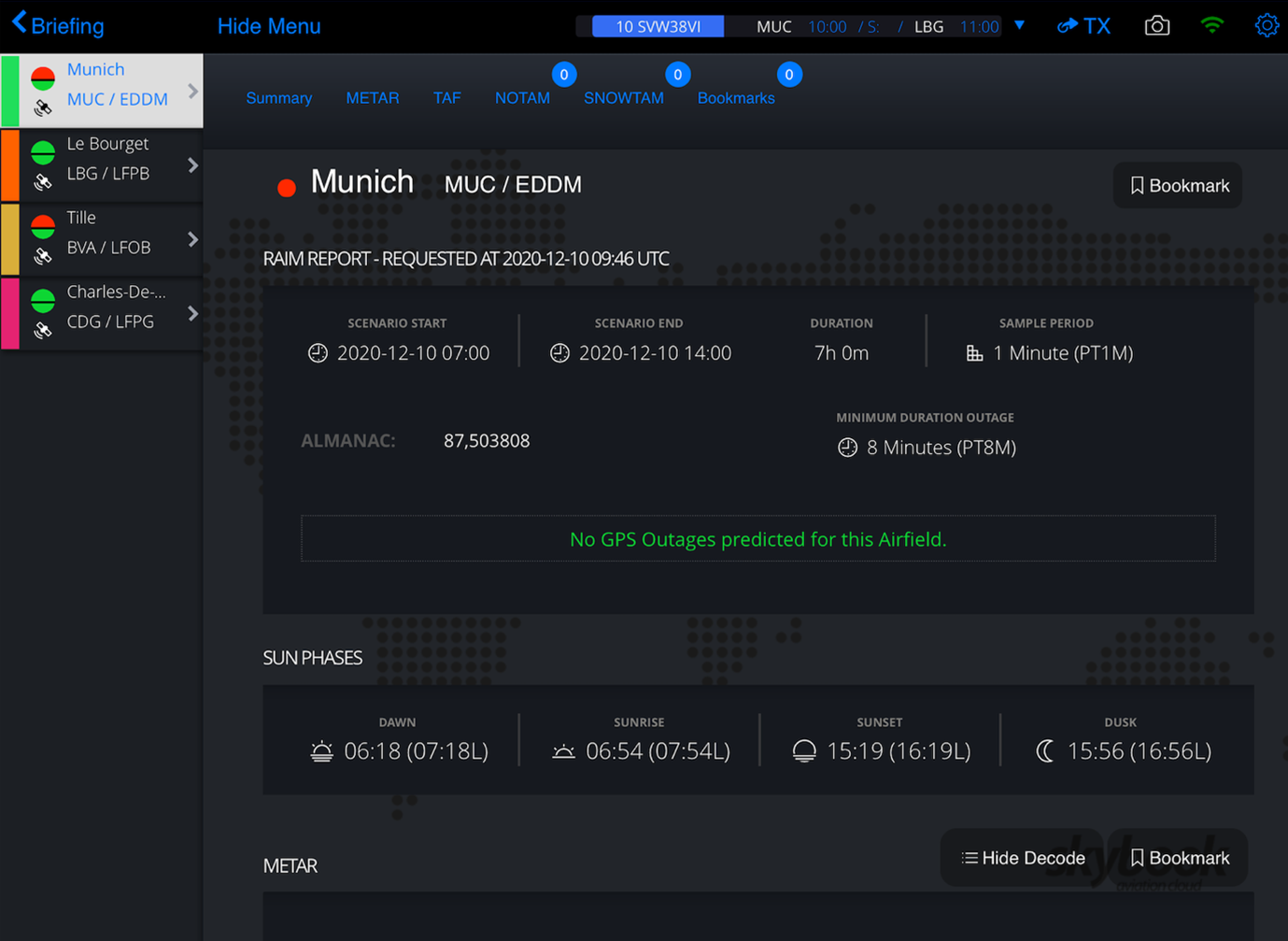 All of the information featured within the latest release is standard functionality that can be accessed within skybook.
skybook is already used to great effect by airlines and operators across the globe.
It is proven to:
Reduce labour requirements and workloads
Improve data management across teams and departments
Improve situational awareness and decision making
Connect systems for improved information sharing
Reduce carbon footprints
To find out more about how skybook can help your company, arrange an introduction or speak to a product specialist simply email info@bytron.aero and we will take it from there.
-