Flight Dispatch
NOTAM warnings... our latest update is available
By James | 21st June 2017
skybook already goes above and beyond what is traditionally thought of as a flight dispatch and crew briefing system.
It can be purchased as a complete solution catering for flight dispatch, crew briefing, weather, airfield watch and NOTAM, or alternatively can be bought as a series of modules, each catering for specific aspects of the dispatch and briefing process.
Although it is our most complete solution to date, airlines don't have to buy the full skybook package to enjoy the benefits of our software as each module has been designed with end users in mind, ensuring that our technology really will do the hard work for you.
Our latest development sprint has seen us focus attention on NOTAM warnings, filtration and distribution, introducing further improvements to what is already one of the strongest and most effective areas of skybook.
The aim - to add further value and functionality to our Narrow Route Briefings by improving filtering options around NOTAM warnings.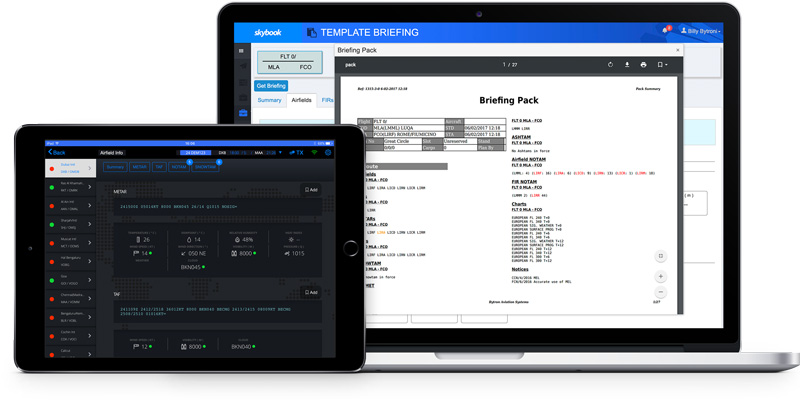 How have we done it? We've created a settings area specific to NOTAM that enables further NOTAM filtering, highlighting potential issues as they come in and distributing incoming NOTAM straight to planners.
This means that inclusion and exclusion rules can be created for NOTAM ensuring that the most current and important NOTAM are included in sector briefings based on QCodes and operational criteria.
For example, an operator may want to exclude NOTAM alerts around issues like basic airfield maintenance and grass cutting to ensure that focus remains on more important information that crew need to be aware of and could have an impact on the flight.
As with all of skybook, our filter process is fully configurable by each operator.
This means that excluded information can either be removed all together or simply hidden so that it would still appear on a summary sheet within the pack showing which filters have been applied along with critical information highlighted.
Email alerts can also be created through the NOTAM settings panel, again based around specific criteria. These ensure NOTAM information gets sent to team members in real time as it comes into skybook. These NOTAM can be used by planners and dispatchers to monitor the situation at airfields of interest, enabling them to be forwarned of any situation that may affect operations.
If you've not yet heard about our unique 'Narrow Route Briefings' module, click here. It's one module that separates skybook from other systems.
This is a real whistle stop tour of our latest update.
If you want to know more about how skybook can help improve your flight dispatch, weather watching or flight briefing processes or would like a demonstration then please get in touch via james.cartwright@bytron.aero or by calling +44 (0) 1652 688 626.
-